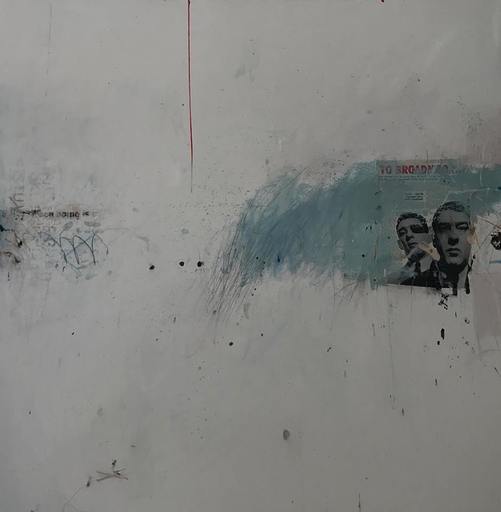 Some years ago I visited a small island near the coast of Syria and there I saw walls that were, so to speak, talking to me. Children had painted their own hands as signs of protection on the walls. The paintings of Ali Rashid reminded me of those walls filled with vivid signs. One doesn't have to be able to read the signs to feel that they are bearers of meaning. Rashid's work is spacial, it has no center, no restrictions, it reverberates the impressions which lead to its existence and adds warmth to it. The canvases breath, in fact a wall in a small room like this, "grows" through the presence of the painting. Ali told me that he started to work with texts in an underground shelter during a war in Iraq. He was sitting there as a soldier with his notebook and he realised that the critical words he was writing down could bring him in a dangerous situation. So he starting drawing on the text, in the process of course making the text unreadable. Layer upon layer he created later on paintings like a palimpsest, a way of adding time to the essence of the work. Rashid developed a poetic use of signs which relates him to artists such as Antoni Tàpies and Joan Miró.
Wouter Welling
The painter and poet Ali Rashid was born in Iraq, but he lives since 1994 in Holland. He has successfully completed his art studies in Iraq and in Holland at the Art Academy. He had exhibitions in various countries, e.g. Germany, Belgium, Denmark, Norway, Finland, Spain, Egypt and Japan apart from Iraq and Holland. In his work he tries to link his personal memories with the course of the general history. Memories from Iraq, the people there, his youth, his years during the war, the oppression, the poverty. By taking his memories as startingpoint for his work and placing them in a broader perpective, he tries to take responsibility as an artist for the world around him. During his time in Holland he is also looking for links between East and West. His work is strong but also poetic. As painter and poet he looks for methods to join lines with letters. This fascination finds its origin in the time of the war when poems (written from left to right as well as from right to left) were made illegible through drawings, thus becoming a matter of life and death.
Bastiaan R. Körner
letter and line
The source of Ali Rashid work is His memory . Memories from Iraq, the country where he was born; the people, the history, his youth. but also the wars, the inhuman dictator, the surpression, the poverty As an artist he search to ways to connect his personal history with the common one. The archive of his memories he use as the start for his work and he try to place them in a wider perspective . He search for those memories which are common and try to connect them with the nowadays world, his daily life and the world around him . In this way layers of meanings can develop within the work . By taking his memory as an archive and startingpoint for his art he try to take responsability as an artist for the world around him . It helps to understand now and built up the future . He search for methods to connect line and word . Drawings, paintings, grafic and poetry . Forced by the war between Iran and Iraq (as a non member of the Baath regime he was sent to the front), He developed a form between poem and drawing 4000 years ago, the first steps towards writing was born in his country. You can say that combining word and line is his background, his history. But allready in his youth He had this fascination and it became stronger because of his art work and poetry He try to deepen the relation between word and line, drawing and poem, and to connect it with our time . He escape from one center in his work There are many centers; citycenter, countrycenter, political leader etc. In Iraq at the time of the dictator, there was a center from which you could not escape. he don,t want to pay to much attention to a center. Maybe things around the center are as important as the center. This is the reason that he have many accents in his work. If you look for example to a building, maybe a little piece of a wall, a whole in the wall, a crack, grafitti etc. tells you more about the building and its history, than the building itself . The different lines, words, colors don,t belong to one particular element or form in his art, but to more at the same time. In such a way that layers of meanings can develop. This is also the reason why he use mixed materials . As an artist he develop again and again methods to connect his memory with the nowadays reality . Methods to deepen the relation between line and word as elements to use his archive of memories , And methods to direct the dialogue the viewer can have with the work.
.
Gitta Pardoel Artist and Architect
Ik onderzoek methodes om lijn en woord met elkaar te verbinden
4000 jaar geleden werd er in het land waar ik ben geboren, Iraq, de eerste stappen gedaan naar het schrift. In dit schrift kan je een relatie ontdekken tussen woord en lijn. Het koppelen van woord en lijn is een deel van mijn geschiedenis en een deel van de kunstgeschiedenis.
Ik heb vanuit mijn jeugd een fascinatie voor die relatie en dit wordt versterkt door het feit dat ik zowel beeldend als schrijvend werk maak.ik op mijn eigen wijze probeer de relatie tussen woord en lijn, tussen tekeningen en gedicht uit te diepen, te vernieuwen en te verbinden met onze tijd.
Ik vermijd centra in mijn werk
Er zijn vele centra; in steden, in landen, politieke leiders vormen centra etc. Vooral in Iraq was het centrum onmenselijk aanwezig. Ik wil niet dat alle aandacht uitgaat naar dat ene centrum. Misschien zijn de dingen om het centrum heen even belangrijk. Dit is de reden dat ik in mijn werk niet 1 accent leg, maar vele accenten. Als je bijvoorbeeld kijkt naar een gebouw is er misschien een klein stukje in de muur, een gat, een scheur, grafitti, een inkerving etc, die je misschien meer kan zeggen over het gebouw en de historie, dan het hele gebouw zelf ..
ali rashid